Tamaño estándar claro comercial escaparate vidrio templado
Breve introducción de vidrio templado
El vidrio templado es 5 veces más duro que el vidrio flotado común, también llamado vidrio templado. Y el vidrio templado se puede usar como el escaparate comercial cuando el vidrio templado se construye como el vidrio laminado. Con alta resistencia y fragmentos se unen con el PVB o SGP cuando el vidrio se rompe. Podemos suministrar el tamaño personalizado, las formas y con capas múltiples de vidrio laminado. Se usa ampliamente en puertas de vidrio, duchas, balcones de vidrio, balaustradas de vidrio, barandas de vidrio, etc. Y el vidrio templado se puede procesar como vidrio laminado, vidrio aislante, unidades de vidrio de triple acristalamiento, etc. Yaohua Glass de China suministra los tipos de vidrio de construcción, cubriendo vidrio templado de tamaño jumbo, vidrio laminado y vidrio templado de 15 mm, 19 mm, vidrio laminado SGP ultra claro.
Información de Temper ed Glass
| | |
| --- | --- |
| Thickness | 4-19 mm |
| Max Size | 3300*13500 mm, any customized size can meet your required |
| Min Size | 300*300 mm, any customized size can meet your required |
| Available Type | Float Glass, Heat Reflective Glass, Single Silver Low-E Glass, Double Silver Low-E Glass, Triple Silver Low-E Glass Etc. |
| Color | Clear, Ultra Clear, Green, Blue, Grey, Bronze, etc. |
| Process | Beveling, Drilling, Cutting, Bending, Silkscreen, Painted, Acid Etched, Etc. |
| Edge Processing | Grinding Edge and Polished Edge |
| Corner | Safety Corner and Round Corner |
| Water Jet Cutting | Cutouts, Hinge, Micky Ears |
Característica del vidrio templado
Seguridad: vidrio templado después de romperse en fragmentos, no dañar el cuerpo.
Resistencia: el vidrio templado tiene una fuerza de 4 a 5 veces mayor que el vidrio ordinario.
Estabilidad en caliente: buena estabilidad en caliente, puede soportar 3 veces la temperatura que el vidrio ordinario, también puede soportar el cambio de más de 200 ° C.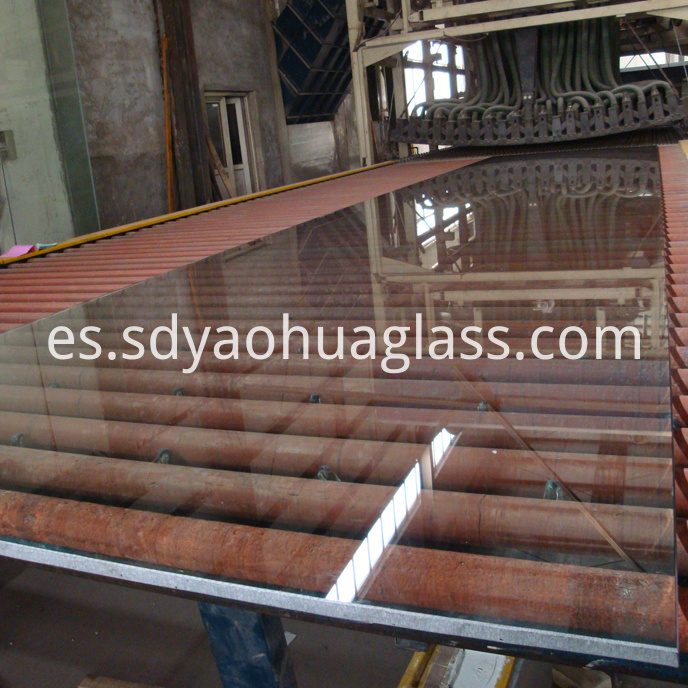 Embalaje y envío
Tiempo de producción: dentro de 10-15 días después de confirmada la orden;
Cajas fuertes de madera contrachapada de exportación, con papel o corcho suave entre dos hojas;
Información de la compañía
Shandong Yaohua Glass Co., Ltd se estableció en 1985, después de más de 30 años de desarrollo, se ha convertido en uno de los 30 mejores fabricantes de procesamiento de vidrio para la construcción. En la actualidad, hay alrededor de 300 empleados, 2 grandes fábricas estándar modernas, 3 bases de producción, más de 40,000 metros cuadrados de área de producción. Nuestra compañía tiene Certificado de Sistema de Gestión de Calidad y Certificado CCC. La producción depende de vidrio BAJO-E, vidrio templado, vidrio aislante, vidrio laminado, vidrio serigrafiado, vidrio doblado en caliente, vidrio a prueba de balas, vidrio de tamaño 15 mm, 19 mm y otros tipos de vidrio de procesamiento profundo.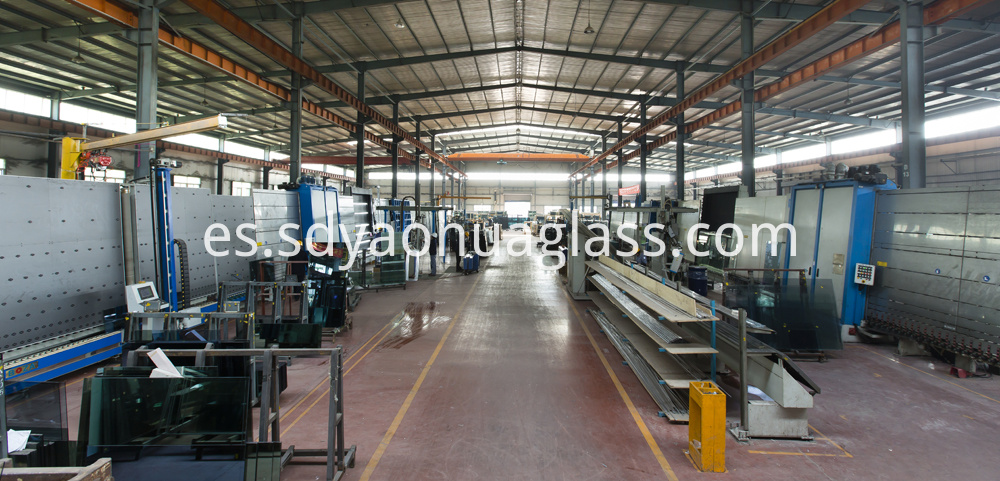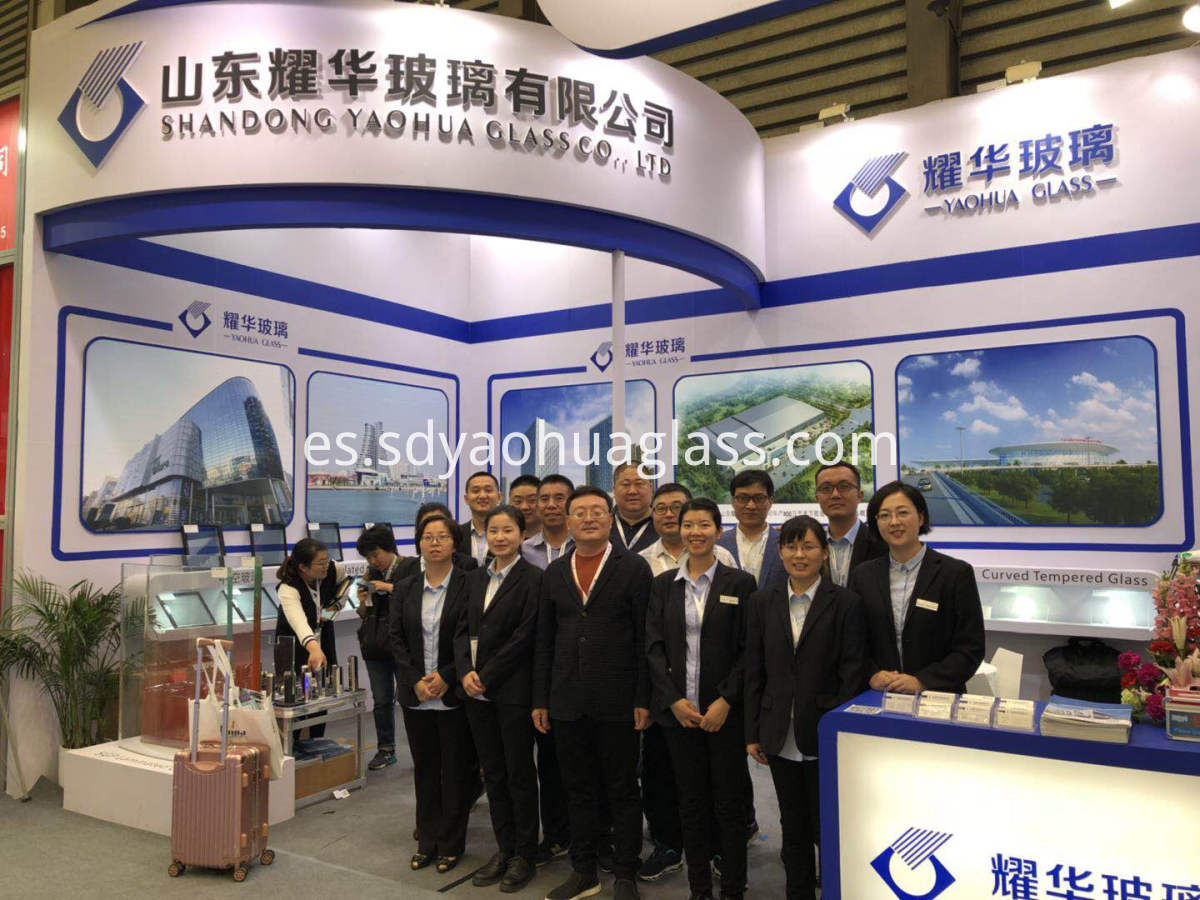 FAQ

1. How can I get the best price?
In order to offer our best price for you, please send all the details as below for us:
a. size and thickness of required glass; b. the approximate quantity; c. if special requirement like drill holes, cut notches, cutouts, acid etched, silkscreen; d. when you need those glass?

2. Where are you located?
Our factory locate in Jinan City, Shandong Province, China. Warmly welcome to visit us any time.

3- What's the fastest production time you can do?
Generally, insulated glass is 7-15 days, tempered glass is 10 days, laminated glass is 7-10 days.

4- How can you make sure the glass won't broken during transportation?
For all the glass from Shandong Yaohua Glass, we will pack them into strong export plywood crates and load the crates into container with metal belt as stable as possible. If unfortunately by accident, the glass broken, we will have insurance to cover the risk, because for all the glass from our company, we will purchase the insurance to cover all the risk for customers freely.

5- Can you accept small quantity?
Yes, but the price will be a little higher, because it needs to share more cost like depreciation of machinery and local charges.

6- Can you send me some samples to check your quality?
Sure, we could send the free samples (except special deep processing glass) for you any time. But for fair business, you pay for courier charge. If you have courier account like DHL, TNT, Fedex, send the detail account information to us, and we send out the samples ASAP. If you don't have courier account, transfer the courier charge for us, we will pay for delivery cost, and we will refund the courier charge for you once we start business.

7- Can you mix different glass in one container?
Yes, we could mix different processing glass like tempered glass, laminated glass and insulated glass in one container. But not with normal float glass.

8- How can I reach you faster?
Call us any time by phone number 0086 15552560235. We are here for you 24 hours/day, 7 days/week.
Grupos de Producto : Vidrio templado > Vidrio de seguridad